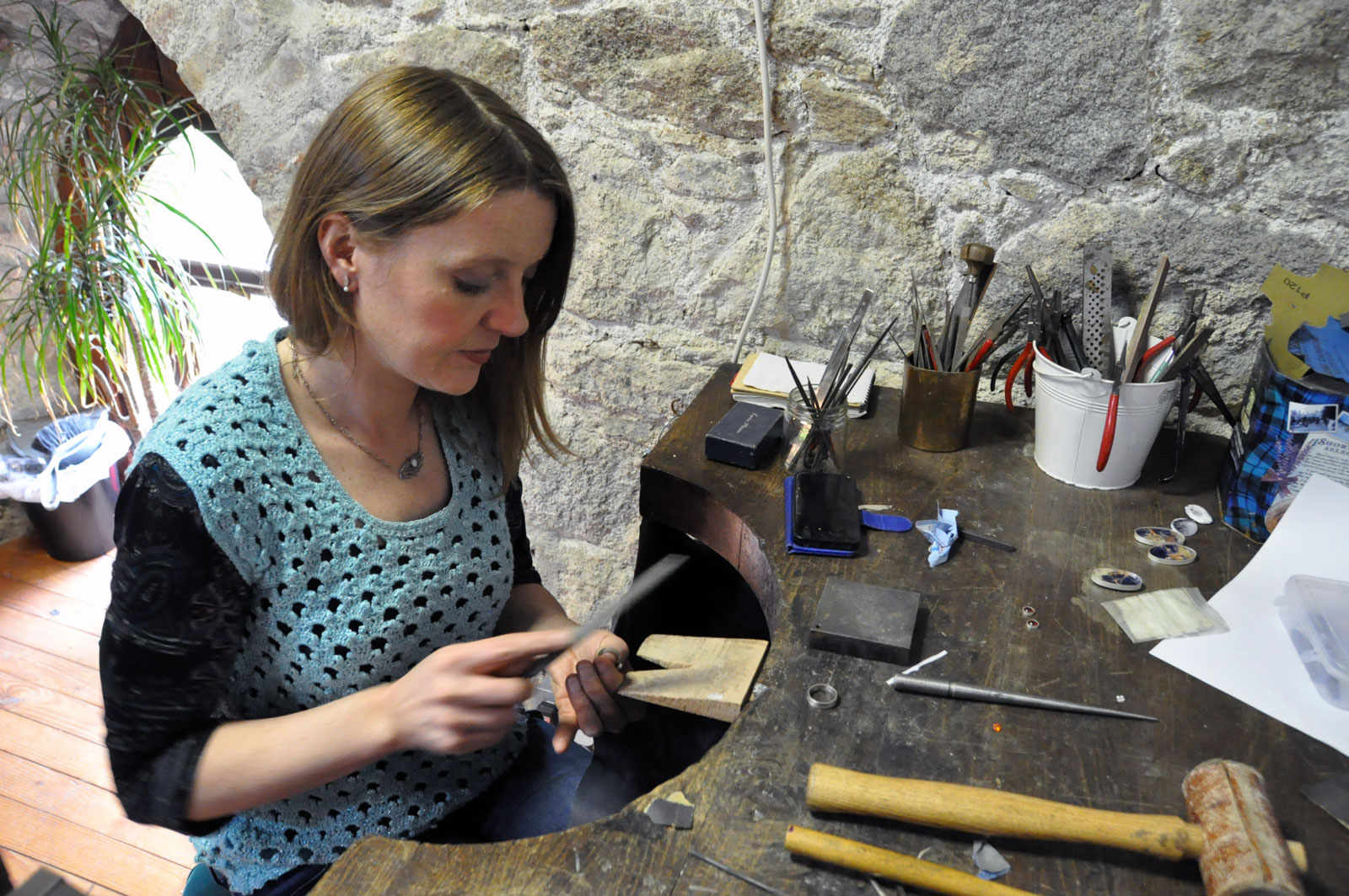 I am a silversmith, contemporary jewellery-maker, metal-artist. I also teach my craft. Hypnotised as a child by the tapping of my father's hammer chasing beautiful works of copper, my passion for the ancient craft of silversmithing was ignited. Excited visits at an early age to the workshop of master craftsman Peter Donovan progressed to training under him and eventually assisting him on many projects . Working under Peter inspired a passion for sacred art and traditional methods of smithing, skills passed down by hand for over 4000 years.
My journey took me to Glasgow School of Art where I spent 4 years developing my skills and acquiring a BA(Hons) in Design, specializing in Silversmithing and Jewellery. Post-university I spent 3 happy years working from a shared studio in the WASPS art collective in Glasgow, exhibiting locally and nationally while supplying specialist shops & galleries and working on commissioned pieces in jewellery and sculpture.
Upon returning to Ireland in 2005 I was given the opportunity to teach part-time classes in metalcraft at Grennan Mill Craft School, and in 2012 I took up the position of metalcraft tutor on their two-year PLC course.
I love passing on this ancient craft, and the hustle and bustle of a room full of students is a welcome intermittent escape from the solitude of my own studio.
Exhibitions
2018   Religious Art in The Home, World Meeting of Families, RDS, Dublin
2017      Kilkenny Arts Festival, Clay Creations, Thomastown, Co Kilkenny
2016       Exhibition of Sacred Art, Maynooth Seminary, Co Kildare
 2016      Kilkenny Arts Festival, The Hub, Thomastown, Co Kilkenny
2013       Wexford Arts Festival, Art Panther, Wexford
 2013      East/West  International School of Jewellery, Rajasthan, India
2012        Kilkenny Arts Week, Karen Morgan Porcelain, Co Kilkenny
2009        Pushkar Fair, Jatin Handicrafts, Pushkar, Rajasthan, India
2008        Kilkenny Arts Festival, Grennan Mill Craft School, Co. Kilkenny
2007         Tea, Kilkenny Arts Festival, Jerpoint Glass, Co. Kilkenny
2005        The WASP Factory, Glasgow, Scotland
2004       New Horizons, Arteries Gallery, Bath St, Glasgow, Scotland
2003       Wexford Opera Festival, Greenacres, Wexford
2002        The Dunbrody Festival, Dun Mhuire, New Ross, Co. Wexford
2001        5 Years On, Kilkenny Arts Festival, Kilkenny