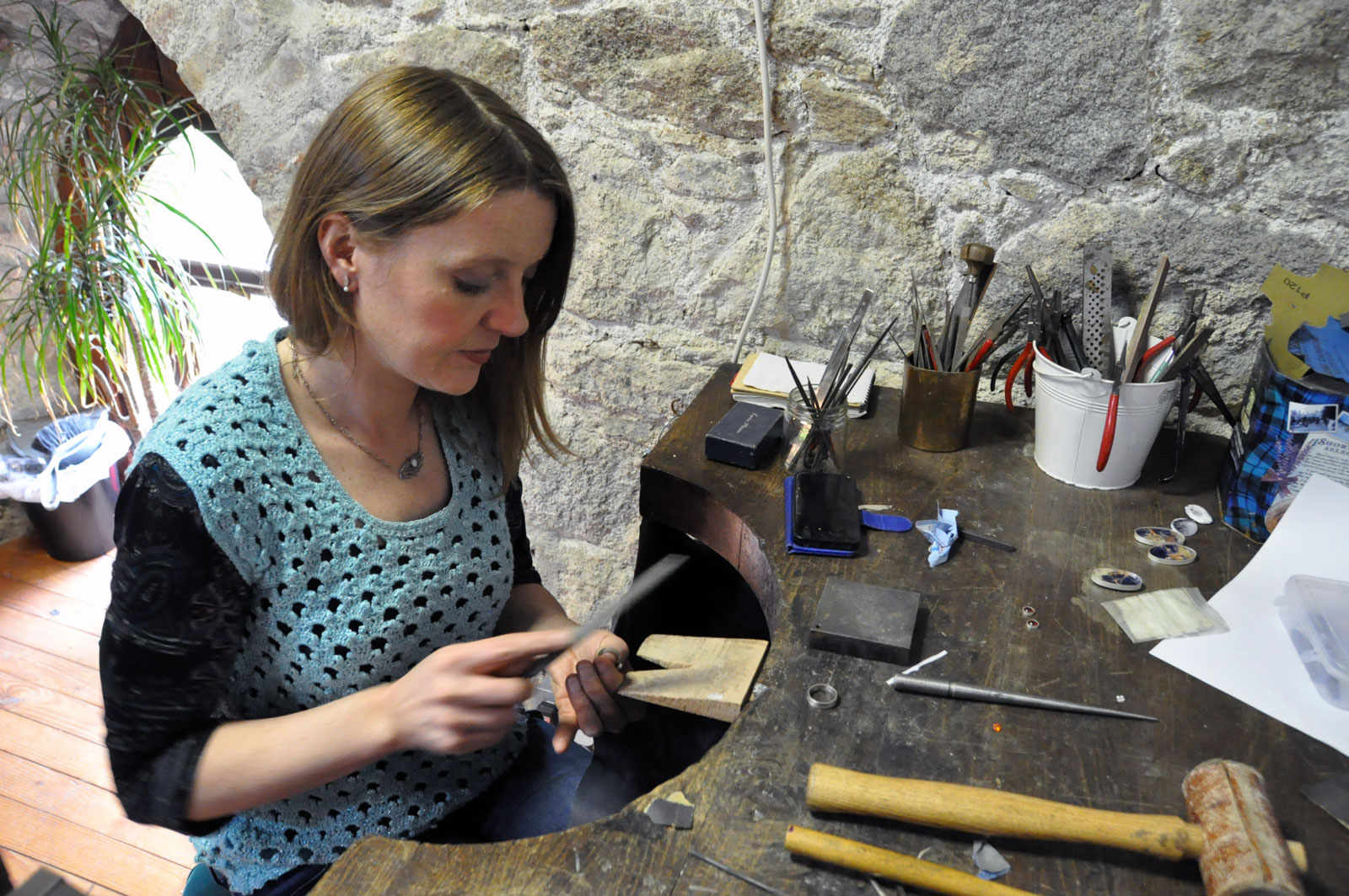 I am a precious metals artist and educator. I have a particular interest in ancient silversmithing techniques and have designed and made precious objects and jewellery for over two decades. I have just completed an MA in Design for Body & Environment at The National College of Art & Design Dublin.
My MA research proposes that humans connect to the world and to their inherent humanity
through the hands.
Exploring the hammer techniques used to create an Iron Age ribbon torc, alongside other processes influenced by the ritualistic practices of ancient Ireland, I have developed works that propose a reconnection to the nature within and the nature without by engaging the hands in mindful action.
In kinetic pieces, process-led experiments and film I archive ancient endangered techniques and suggest that the preservation of hand-skills is vital for the preservation of humanity.
Exhibitions
2019      Designworks, The Portershed, Galway, Ireland
2018      Religious Art in The Home, World Meeting of Families, RDS, Dublin, Ireland
2017      Kilkenny Arts Festival, Brid Lyons, Thomastown, Co Kilkenny, Ireland
2016       Exhibition of Sacred Art, Maynooth Seminary, Co Kildare, Ireland
2013       Wexford Arts Festival, Art Panther, Wexford, Ireland
 2013      East/West  International School of Jewellery, Rajasthan, India
2012        Kilkenny Arts Week, Karen Morgan Porcelain, Co Kilkenny, Ireland
2009        Pushkar Fair, Jatin Handicrafts, Pushkar, Rajasthan, India
2008        Kilkenny Arts Festival, Grennan Mill Craft School, Co. Kilkenny, Ireland
2007         Tea, Kilkenny Arts Festival, Jerpoint Glass, Co. Kilkenny
2005        The WASP Factory, Glasgow, Scotland
2004       New Horizons, Arteries Gallery, Bath St, Glasgow, Scotland
2003       Wexford Opera Festival, Greenacres, Wexford, Ireland
2002        The Dunbrody Festival, Dun Mhuire, New Ross, Co. Wexford, Ireland
2001        5 Years On, Kilkenny Arts Festival, Kilkenny, Ireland
Competitions
2000       Church of Scotland, National Competition to design Moderators Pectoral Cross, Winner
1999        Worshipful Company of Goldsmiths, bursary winner